Faith Works for kids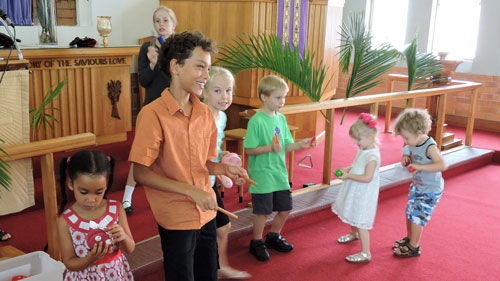 At Faith Works, our desire is to offer a safe, well-balanced, supportive environment for children and young people to learn about the Christian faith and enhance what already happens as a part of your daily family routine (meal time grace, bible bed time stories, praying for friends and family, and caring for each other).
We take the protection and safeguarding of children and vulnerable adults very seriously. We abide by the Uniting Church's Kids Safe Policy and ensure that all of our leaders have current Blue Cards.
Worship each Sunday morning is from 9am and it is intentional that it be for all ages - young and old. We believe that children shouldn't be separated from their parents for worship, so we ensure services are engaging and safe for all ages.
We have activities up the front so little hands are kept busy while they listen to what is going on. There are always blocks for our youngest members. And musical instruments for our children and young at heart. Children are then welcome to join in service where appropriate.
Some even join in taking up the offering. The message is often explored using songs, video clips, drama and craft. Our leaders are passionate about making learning fun, creative and friendly.